Saturday, August 12th

Randalls Island Tour
9:30 am. Meet outside the Pathmark at the S.E. corner of 125th St. and Lexington Ave, free. [Update: $15]
The Municipal Arts Society leads a tour exploring the northern part of Randalls Island, where there is a proposed 26-acre, $168 million water park. They promise the walk will go from East Harlem to Randalls Island, past the Art Deco Robert Moses Administration Building, and under the Triborough and Hell Gate Bridge viaducts to the northeast corner of the island for unusual views of the Bronx and the East River, from Rikers Island to the Whitestone Bridge. Tour ends in the South Bronx.
15th Annual Hong Kong Dragon Boat Festival
Flushing Meadow Corona Park, Queens, 9 am - 6 pm, free.
Picture it: 20 paddlers whose stroke cadence is led by the drummer sitting in the bow, with a decorative Chinese dragon head at the helm of the boat. Brooklyn Ramblings practiced for a while with a dragon boat team in California - it's a great spot, and well worth the trip to Flushing Meadow. The races, performance and music are also going on Sunday, 9-6.
Deepa Grooves
Coney Island Astroland, 4 - 10 pm, free.
Party on the boardwalk to Deepa Grooves. Evidently, Deepa means brilliance in Sanskrit, and they want to show you the brilliance of rockin' out on the boardwalk on a Saturday night.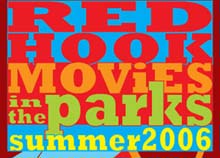 Red Hook Movies shows

Crooklyn




Valentino Pier, 8:15 pm, free

.
It's Red Hook Oldtimers Day at the Red Hook summer movie series. This week they're showing

Crooklyn

(PG-13), with a Hook Productions short film before the feature.
Sunday, August 13th
Brooklyn Riviera: Coney Island and Brighton Beach
10 am. Meet outside the Coney Island/Stillwell Ave. subway station
at the N.E. corner of Stillwell and Surf avenues. (Trains: D, F, N, Q). Free.
[Update: $15]
Joe Svehlak, urban historian at the Municipal Arts Society leads a tour of ongoing changes in "Sodom by the Sea" and "Little Odessa."
CitySol '06
12 pm - 8 pm, Stuyvesant Cove Park (E 23rd Street and The East River), free.
Citysol celebrates the idea that greening New York is about unleashing, not taming, the city and its energy. Each free all-day event includes:
renewable energy-powered live music
featuring emerging NYC acts,
interactive
exhibits
showcasing key innovations, practices and policies for New York's sustainable future, and
a green lifestyle marketplace
offering apparel, electronics, household goods, media and much more."
McCarren Park Concert
2pm - 8pm, The Pool @ McCarren Park, (Lorimer btw Driggs and Bayard), f
ree.
Playing today in McCarren Park's emptied out pool are
Dee
rhoof
,
Beirut
,
Apollo Sunshine
,
The Harlem Shakes
and
DJ Questlove
. Music starts at 3pm. Don't forget - there's also dodgeball. But, no hot tub this week. Photo by Edwin Tse.
Monday, August 14th
Martin Luther King, Jr. Concert Series - Caribbean Music Festival
7:30pm, Wingate Field, Winthrop Street between Brooklyn Ave & Kingston Ave,
across from Kings County Hospital
(directions)
, free.
Even if you missed LL Cool J last week, you can still catch the Caribbean music festival, with The Mighty Sparrow, Toots & The Maytals, Third World, Maxi Priest, and Rik Rok.
Tuesday, August 15th
Summerscreen

7:00pm, The McCarren Park Pool (Lorimer btw Driggs and Bayard), free.
The L magazine screens
The Swimmer
,
Bora Yoon
and
Kaki King
. "We're all gonna die, Shirley. That doesn't make much sense, does it?" "Sometimes it does. Sometimes at three o'clock in the morning."